Living with two other foodies has made moving back to Chicago quite the adventure. We've been revisiting several of my favorite places and trying out as many new restaurants as possible. One of our new favorites for delivery/carry out is Taco Joint. I have yet to try a single thing off the menu that was not amazingly delicious, and overall the prices are very reasonable. (We're talking $2-$3 per taco, and each taco is fairly large and VERY filling! Though be prepared to pay a $5 delivery fee if you go that route.)
I wish I had some of my own pictures to show you, but truth be told carry out containers aren't always the most appealing visual presentation, and that would also require us not digging in the second we get them open. Yeah, it's that good. I'll have to let a few pictures I've pulled from the web suffice for now.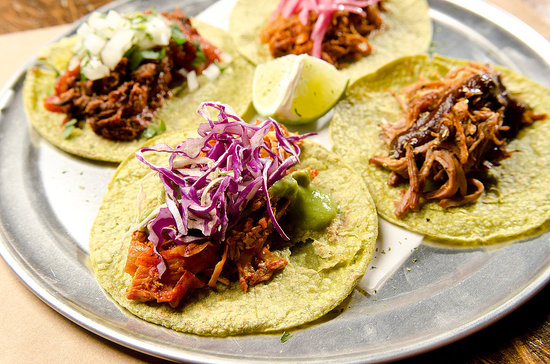 Some of our favorites:
Arabe ($3): Grilled Puebla style Lebanese influenced taco with marinated pork loin and chipotle salsa; served on a Mexican style pita
Estilo Baja ($3): Victoria Beer battered tilapia garnished with a creamy-arbol cabbage slaw
Tinga ($2): Marinated shredded chicken garnished with red cabbage and "guaca-salsa"
Queso Fundido ($7): Melted Chihuahua cheese, roasted poblano strips and choice of homemade chorizo or sautéed mushrooms
And of course, we would whole-heartedly recommend ALL of the guacamole options. What can I say, we're really into guac. Each one comes with corn, sweet plantain, and malanga chips.
For those dining in, Taco Joint also has over 50 tequilas and a menu full of margarita options. We will absolutely be trying the in-restaurant dining experience in the near future to try some of those out!
Taco Joint is located in Lincoln Park at 1969 N. Halsted in Chicago, right off of W. Armitage Avenue.